1. Duravit plans to build the world's first climate-neutral ceramics factory in Canada
Duravit, the famous German ceramic sanitary ware company, recently announced that it will build the world's first climate-neutral ceramic production facility at its Matane plant in Quebec, Canada. The plant is approximately 140,000 square meters and will produce 450,000 ceramic parts per year, creating 240 new jobs. During the firing process, Duravit's new ceramics plant will use the world's first electric roller kiln fueled by hydropower. The renewable power generation comes from Hydro-Quebec's hydro power plant in Canada. The use of this innovative technology reduces CO2 emissions by around 9,000 tonnes per year compared to conventional methods. The plant, which will be operational in 2025, is Duravit's first production site in North America. The company aims to supply products to the North American market while being carbon neutral. Source: Duravit (Canada) official website.
2. The Biden-Harris Administration announced $135 million in grants to reduce carbon emissions from the U.S. industrial sector.
On June 15, the U.S. Department of Energy (DOE) announced $135 million in support of 40 industrial decarbonization projects under the framework of the Industrial Reduction Technologies Development Program (TIEReD), which aims to develop key industrial transformation and innovative technologies to reduce industrial carbon emissions and help the nation achieve a net zero emission economy. Of the total, $16.4 million will support five cement and concrete decarbonization projects that will develop next-generation cement formulations and process routes, as well as carbon capture and utilization technologies, and $20.4 million will support seven intersectoral decarbonization projects that will develop innovative technologies for energy conservation and emission reduction across multiple industrial sectors, including industrial heat pumps and low-temperature waste heat power generation. Source: U.S. Department of Energy website.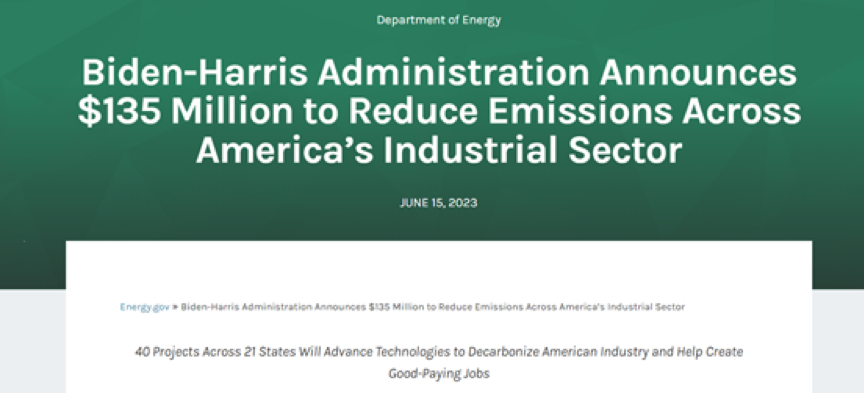 3. Australia plans 900 megawatts of solar energy projects to help green hydrogen energy projects.
Pollination, an Australian clean energy investment company, plans to partner with traditional landowners in Western Australia to build a massive solar farm that will be one of Australia's largest solar projects to date. The solar farm is part of the East Kimberley Clean Energy Project, which aims to build a gigawatt scale green hydrogen and ammonia production site in the northwest region of the country. The project is expected to begin operations in 2028 and will be planned, created and managed by Australian Indigenous Clean Energy (ACE) Partners. The partnership company is equitably owned by the traditional owners of the land on which the project is located. To produce green hydrogen, the project will use fresh water from Lake Kununurra and water energy from the Ord hydropower station at Lake Argyle, combined with solar power, which will then be delivered via a new pipeline to the port of Wyndham, a "ready for export" port. At the port, green hydrogen will be converted into green ammonia, which is expected to produce about 250,000 tons of green ammonia per year to supply the fertilizer and explosives industries in the domestic and export markets.
---
Post time: Sep-13-2023