Aluminum honeycomb core with composite of variety plates
Product Detail
Product Tags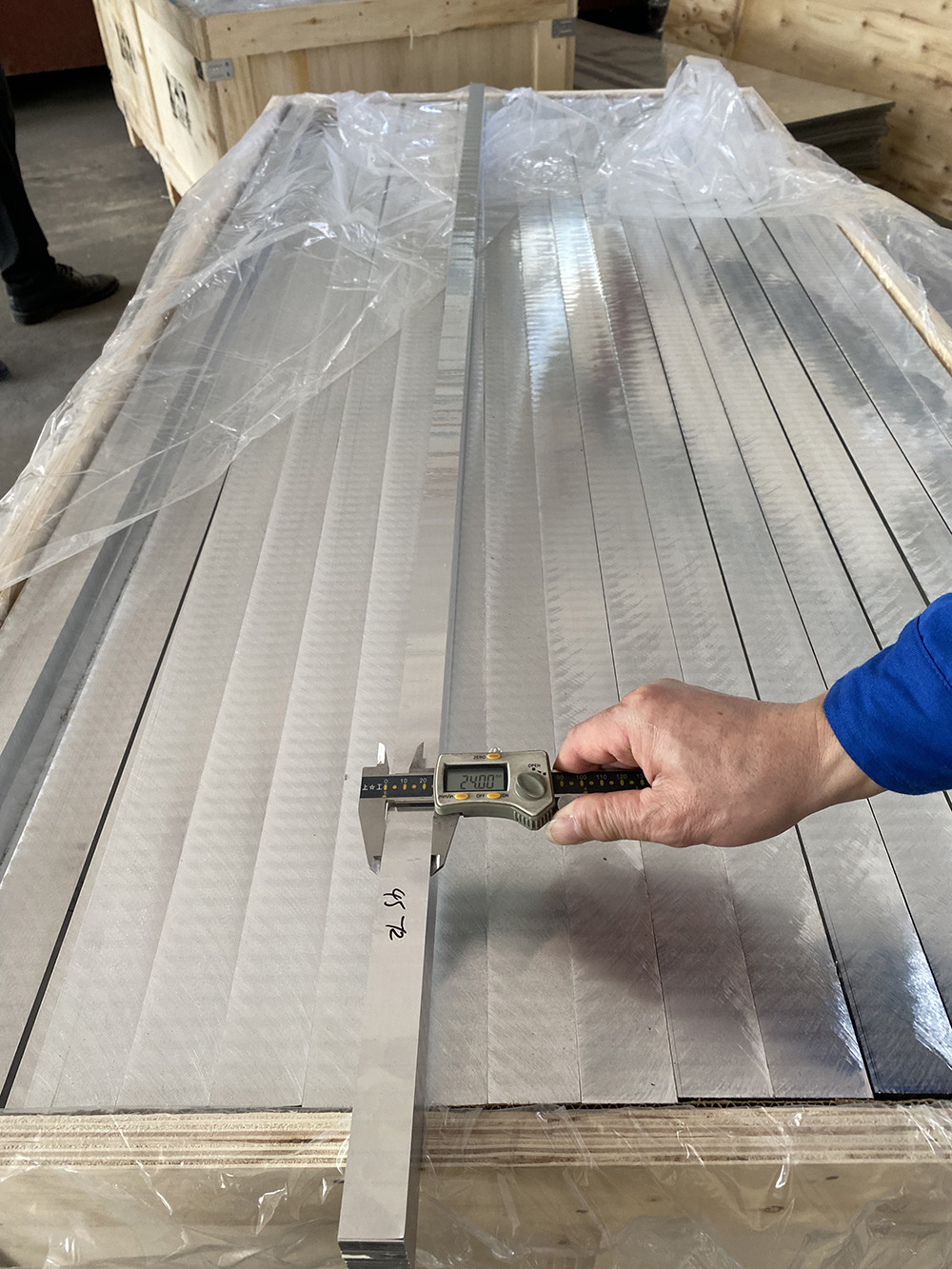 1.Sound insulation, Heat preservation:
The material has good sound insulation and thermal insulation performance because the air layer between the two layers of plates is separated into multiple closed pores by honeycomb, so that the transmission of sound waves and heat is greatly limit
2.Fire prevention:
After the inspection and appraisal of the national fire prevention building materials Quality supervision and inspection center, the performance index of the material is in line with the requirements of the fire retardant material. According to the specification of GB-8624-199, the combustion performance of the material can reach GB-8624-B1 level.
3.Superior flatness and rigidity:
Aluminum honeycomb plate has a lot of mutual control of dense honeycomb composition, like many small I-beam, can be dispersed under the pressure from the direction of the panel, so that the panel force is uniform, to ensure the strength of the pressure and the large area of the panel to maintain a high flatness.
4.Moisture-proof:
The surface adopts the pre-rolling coating process, anti-oxidation, no discoloration for a long time, no mildew, deformation and other conditions in the humid environment.
5.Light weight, Energy conservation:
The material is 70 times lighter than a brick of the same size and only one-third the weight of stainless steel.
6.Environment protection:
The material will not emit any harmful gaseous substances, easy to clean, recyclable and reused.
7.Anticorrosion:
There is no change after inspection in 2% HCL in solution soaking for 24 hours, and in saturated Ca(OH)2 solution soaking also.
8.Construction convenience:
Products have matching alloy keel, easy to install, save time and labor; Repeatable disassembly and migration.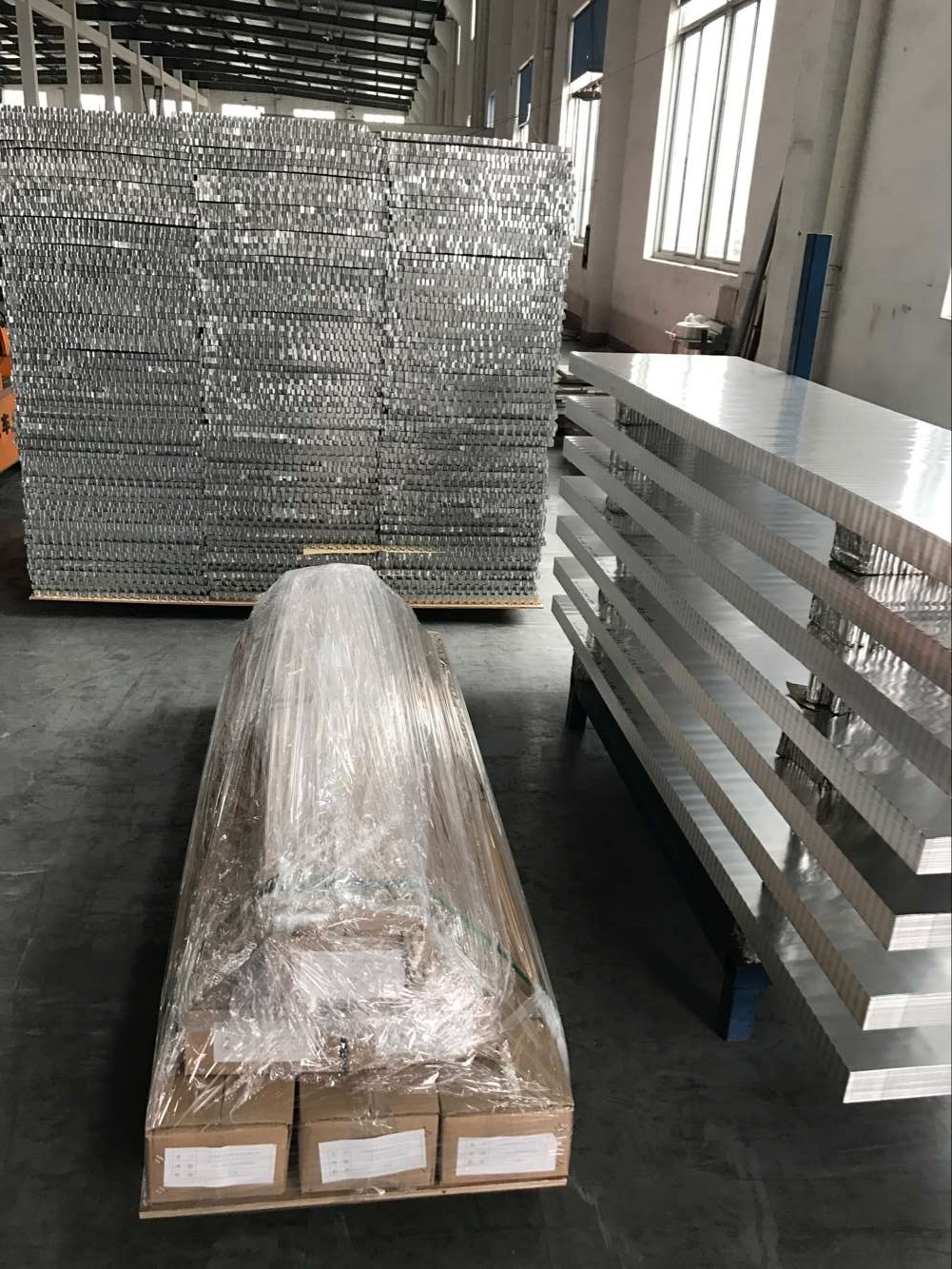 Honeycomb core of Density and Falt compressive strength.
Honeycomb Core Foil Thickness/Length(mm)

Density Kg/ m²

Compressive Strength 6Mpa

Remarks

0.05/3

68

1.6

3003H19

15mm

0.05/4

52

1.2

0.05/5

41

0.8

0.05/6

35

0.7

0.05/8

26

0.4

0.05/10

20

0.3

0.06/3

83

2.4

0.06/4

62

1.5

0.06/5

50

1.2

0.06/6

41

0.9

0.06/8

31

0.6

0.06/10

25

0.4

0.07/3

97

3.0

0.07/4

73

2.3

0.07/5

58

1.5

0.07/6

49

1.2

0.07/8

36

0.8

0.07/10

29

0.5

0.08/3

111

3.5

0.08/4

83

3.0

0.08/5

66

2.0

0.08/6

55

1.0

0.08/8

41

0.9

0.08/10

33

0.6
Conventional size specifications
Item

Units

Specification

Cell

Inch

 

1/8"

 

 

3/16"

 

1/4"

 

 

mm

2.6

3.18

3.46

4.33

4.76

5.2

6.35

6.9

8.66

Side

mm

1.5

1.83

2

2.5

2.75

3

3.7

4

5

Fiol thickness

mm

0.03~0.05

0.03~0.05

0.03~0.05

0.03~0.06

0.03~0.06

0.03~0.08

0.03~0.08

0.03~0.08

0.03~0.08

Width

mm

440

440

1800

1800

1800

1800

1800

1800

1800

Length

mm

1500

2000

3000

3000

3000

4000

4000

4000

5500

High

mm

1.7-150

1.7-150

3-150

3-150

3-150

3-150

3-150

3-150

3-150

 

Item

Units

Specification

Cell

Inch

3/8"

 

1/2"

 

 

3/4"

 

1"

 

mm

9.53

10.39

12.7

13.86

17.32

19.05

20.78

25.4

Side

mm

5.5

6

 

8

10

11

12

15

Fiol thickness

mm

0.03~0.08

0.03~0.08

0.03~0.08

0.03~0.08

0.03~0.08

0.03~0.08

0.03~0.08

0.03~0.08

Width

mm

1800

1800

1800

1800

1800

1800

1800

1800

Length

mm

5700

6000

7500

8000

10000

11000

12000

15000

High

mm

3-150

3-150

3-150

3-150

3-150

3-150

3-150

3-150

  

1.Also we can customize according to the demand of clients
2.Order format:
3003H19-6-0.05-1200*2400*15mm or 3003H18-C10.39-0.05-1200*2400*15mm
Material Alloy-Side or Cell-Foil Thickness-Width*Length*High
---
Previous:
---